Bol Sach slipway
View more Launch sites in Restricted
---
Before launching your craft it is vitally important for your own personal safety and the safety of others that you take the time to read carefully the Rules & Regulations as set out by Gwynedd Council. Please adhere to these rules and regulations at all time.
Bol Sach (aka Thomas Hughes Port) is the 1st of two slipway launch sites in Holyhead. Launching from here offers easy access to the whole Western coastline of Anglesey, as well as Holy Island. Noteable features you can explore from here include South Stack Lighthouse, The Skerries & the inland sea (a unique opportunity to travel inland from Holyhead Bay to the peaceful inland waters around Four Mile Bridge).
*This slipway is within a Commercial Harbour area, owned and operated by STENA. Please adhere to local speed limits and COLREGS within the harbour confines*
The slipway here (pic. 1) is of good, wide concrete construction, and suitable for launching at all states of tide. A word of caution though…The bottom 1/3 of the slipway can get VERY slippery, and you could very easily find it impossible to get your tow vehicle back up the slip if you venture too far down. It can also offer virtually no grip underfoot and lead to falls (I know this to my recent cost!). Our advice here is to employ a webbing strap on your towbar (5-15 metre ones available on ebay) and manually lower your trailer to the water, allowing your car to stay uphill of the danger area.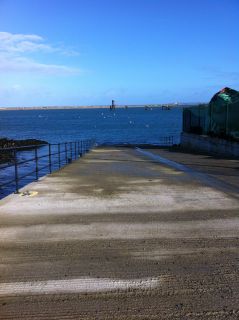 Parking is available for several cars at the top of the slipway (pic. 2), and there is room to leave your trailer (plus some solid objects to secure it too, if you wish).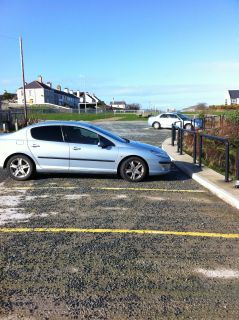 Getting There.(Directions from A55)
Cross the Britannia Bridge onto Anglesey, then continue along the A55 until it terminates at Holyhead ( Just after you pass the Anglesey Aluminium factory,Kinglsland on your right). Continue straight along the Port road (passing under the pedestrian bridge) keeping the rail and Ferry terminals on your right.
Just before you enter the Freight terminal gate, turn left into Prince of Wales Road (Prince of Wales Pub on the corner). Continue 100 metres or so, and turn right into Bol Sach car park.
Useful Information:
GPS co-ordinates
53.18.927 | 004.37.809
Nearest Fuel : Tesco Superstore, just after Anglesey Aluminium
Shell filling station, Valley.
Useful Contact Numbers:
Holyhead Coastguard : 01407 762051
VHF Channels : 14/16
Maritime Office : 01248 752435
In an Emergency Call 999