Bull Bay
View more Launch sites in Anglesey
---
Before launching your craft it is vitally important for your own personal safety and the safety of others that you take the time to read carefully the Rules & Regulations as set out by Gwynedd Council. Please adhere to these rules and regulations at all time.
Bull Bay is located on the North east coast of Anglesey, between the villages of Amlwch & Cemaes Bay. Launching from here gives easy access to the rugged north and eastern coastline, with noteable features to explore including Middle Mouse & East Mouse islands, The Brickworks and Puffin Island.
Access to the water here is via a good, level concrete slipway (pic. 1) onto a sand/pebble surface. You should be safe to launch here with either 2wd or 4wd, but it is your responsibility to check the firmness of the surface before deciding to drive off the slipway onto the beach surface. If you are skiing with company, then launching by hand is possibly a better option.
* For 2018 onwards, there will be a key locked bollard system in place at this location.
The fee for a key is £75 for the season, with £25 being refunded on return of the key. You will still need to pay the registration fee. To apply for a key, contact Carli Evans on bimff@btinternet.com
As you can see in (pic. 1) access to the open water is slightly hampered by large rock outcrops to the right and left of the slipway area. Easy to see at low or dropping tide….but do please keep them in mind as the tide rises so you don't collide with them.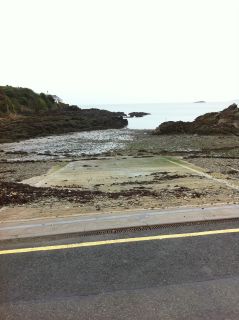 Parking (pic. 2) is provided just before you reach the slipway, on the right hand side.
*The Bull Bay Hotel has now closed and at present there is extra parking available on the vacated site, which is suitable for vehicles and trailers. Anglesey Council are looking into improving parking availability here & we will update as more information becomes available*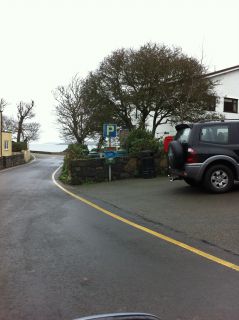 Directions from A55
On crossing the Britannia bridge to Anglesey, continue on the A55 until Junction 8. Exit here, then turn right onto the A5025.  Continue on the A5025 for approximately 17 miles, passing through Pentraeth, Benllech and Amlwch. Bull Bay is approximately 2 miles further on past Amlwch, signposted to your Right after you have passed both the Bull Bay Golf Club, and The Trecastell Hotel on your left.
Useful Information:
GPS co-ordinates : 53.25.339, 004.22.222
Nearest Filling Station :
Amlwch (Total Fuels)
Dulas Marine (City Dulas), which also stocks chandlery, wetsuits, yamalube and Seadoo oils
Navigational Hazards:Rocks on each side and the middle of the bay covered at high tide, 5mph speed limit inside bay.
Useful Contacts:
Coast Guard (Holyhead) : 01407 762051
VHF Channels : 14/16
Gwynedd Maritime : 01248752435
In an Emergency: Call 999