Criccieth
View more Launch sites in Gwynedd
---
Before launching your craft it is vitally important for your own personal safety and the safety of others that you take the time to read carefully the
Rules & Regulations as set out by Gwynedd Council. Please adhere to these rules and regulations at all time.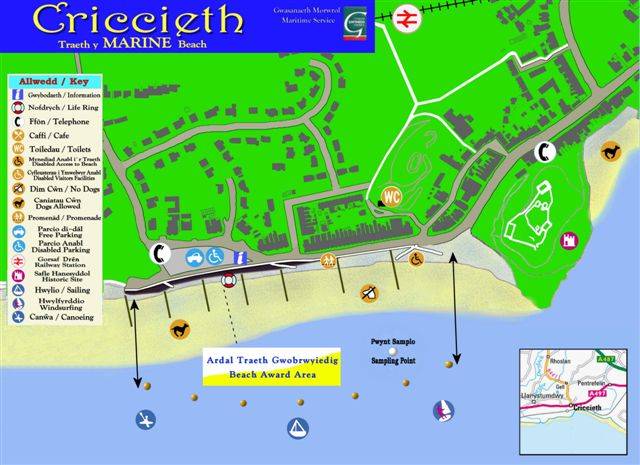 The town of Criccieth is most famous for it's historic castle that divides the two beach front areas of the town.
The slipway (Pics 1&2) is located on the easterly side of the castle right next to the pier, where the beach is mainly made up of small/ medium pebbles.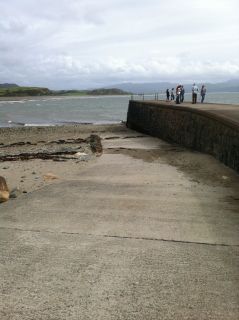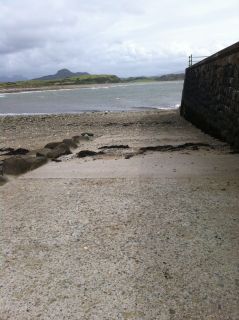 At high tide it is possible to launch from the main slipway however this is not possible at low tide, and getting your craft to the water may be quite difficult. The beach is not suited to take vehicles of 4 wheel or two wheel drive variety.
Due to it's popularity, parking is limited in Criccieth during summer but there are pay and display car parks along the promenade area.
The slipway here is located opposite opposite to the RNLI station. Please make sure that you do not obstruct the area, as the main lifeboat launches from here and may need to do so at any time.
Suggestion
As with Porthmadog, launching facilities here are somewhat unsuitable for a large number of craft launching at the same time and the promenade area is very busy during the summer. My suggestion is that you launch from Black Rock Sands which is only a few miles further up the coastline, where the facilities are much more Personal Watercraft friendly.
* As of 2012, due to the compromised launch facilities at this location Gwynedd Council have removed the Daily Launch Fee. You may launch for free, but please consider the risk to your craft if you wish to use this slipway.
Once you have launched at Black Rocks, the Castle and town of Criccieth is only a short distance by sea and can easily be visited in 5 or 10 minutes. (For more details see the Black Rock Sands section)
Directions
(Ordnance Survey Ref : OS 502378)
From the Pwllheli follow the A499 out of the town towards Porthmadog.
Once out of Pwllheli continue on the A499 until you enter the town of Criccieth. Here continue to the centre square of the town and turn right just before the bus stop.
Cross over the railway and almost immediately turn left. At the end on this road turn right and you will see the slipway in front of you, right opposite to the RNLI station.
From the A5 you will need to follow the road towards and through the town of Porthmadog where you need to make a left turn on the main roundabout onto the the A497 towards Pwllheli.
After leaving Porthmadog on the A497 you will pass through the village of Pentrefelin then you will arrive at Criccieth. Once you enter the town down take the first turning on your left over the railway tracks towards the Promenade / Beach front area. Follow the road along the promenade until you see the entrance to the slipway just opposite to the RNLI station.
Useful Numbers
Porthmadog Harbourmaster : 01766 512 927 or 07702 719 023
Coast Guard (Holyhead) : 01407 762 051
VHF : 12 / 16
Maritime Office : 01758 704 066
In an Emergency call 999