Holyhead Sailing Club
View more Launch sites in Restricted
---
Before launching your craft it is vitally important for your own personal safety and the safety of others that you take the time to read carefully the Rules & Regulations as set out by Gwynedd Council. Please adhere to these rules and regulations at all time.
The Sailing Club location is the 2nd of two slipway launch sites in Holyhead, and is situated at the far end of Prince of Wales Road within the new Holyhead Marina complex. Launching from here offers easy access to the whole Western coastline of Anglesey, as well as Holy Island. Noteable features you can explore from here include South Stack Lighthouse, The Skerries & the inland sea (a unique opportunity to travel inland from Holyhead Bay to the peaceful inland waters around Four Mile Bridge).
The slipway here (pic. 1) is of good, wide concrete construction, and suitable for launching at all states of tide.
Access to the slipway is bollard controlled, with the key under the control of Holyhead Sailing Club (premises at the slipway).
*PWC launching is currently PROHIBITED from this slipway. We will update this page, should that situation change*
Caution! This slipway is also the launch point for The Holyhead RNLI (ILB) Lifeboat. Please ensure you do not block access to the slipway, or the water at any time.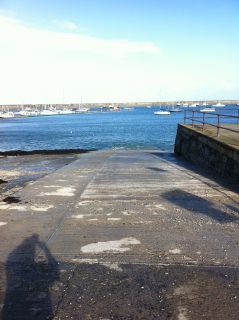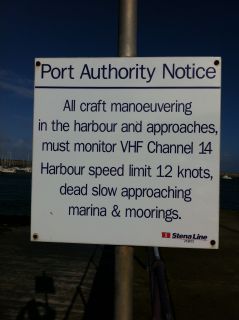 Directions from A55
Cross the Britannia Bridge onto Anglesey, then continue along the A55 until it terminates at Holyhead ( Just after you pass the Anglesey Aluminium factory,Kinglsland on your right). Continue straight along the Port road (passing under the pedestrian bridge) keeping the rail and Ferry terminals on your right.
Just before you enter the Freight terminal gate, turn left into Prince of Wales Road (Prince of Wales Pub on the corner). Continue past the turning for Bol Sach slipway and continue until you arrive at Holyhead Marina.
Useful Information:
GPS co-ordinates:
53.19.090 | 004.38.484
Nearest Fuel:
Supermarkets in Holyhead.
Shell filling station,
Valley.
Useful Numbers:
Holyhead Coastguard : 01407 762051
VHF Channels : 14/16
Maritime Office : 01248752435
In an Emergency Call 999