Llaneilian Slipway
View more Launch sites in Restricted
---
Before launching your craft it is vitally important for your own personal safety and the safety of others that you take the time to read carefully the Rules & Regulations as set out by Gwynedd Council. Please adhere to these rules and regulations at all time.
Llaneilian is a small fishing port village to the east of Amlwch. Launching from Llaneilian Cove (pic 1)gives you access to the North and East coastlines of the island. Notable features to explore from here include The Brickworks, Point Lynas, & The Mouse.
Update for 2016 & beyond
Following a near loss of access to this slipway, a successful public meeting with Llaneilian Slipway & Parish Council and Anglesey Council has resulted in a revised management & access situation being secured.
Access to the slipway is by key (obtainable via postal application to Llaneilian Slipway Council. Please email bimff@btinternet.com for application form)
Current charges are £75 for season, per key, with £25 refundable on return of the key. You will still need to pay the registration fee.
There are 75 keys in total. The majority of keys will be 1st offered to people having an address (permanent, caravan or lodge) within a 7 mile radius of Llaneilian. Any remaining keys will be available to anyone who would like one.
The slipway bollard is user policed, so please make sure you replace it to ensure this location continues to be offered. Key/access abuse has happened in the past & cannot be tolerated. From 2016 onwards, there will be a Council appointed warden at the location to check for valid registration, insurance & key possession.
For Non Key Holders, launching from here will NOT be permitted, but landing and recovery WILL be allowed in circumstances of breakdown or other emergency.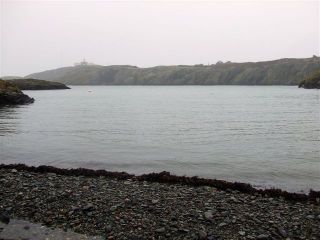 The slipway here (pic 2) is of good, solid concrete construction.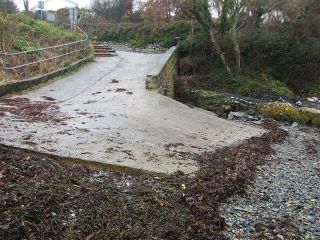 The beach surface (pic 3) is loose shingle, and driving on it is only really advisable in a 4wd vehicle.
Our advice here (if you don't have 4wd) is to invest in a long webbing strap to lower your trailer onto the beach leaving your car safe on the slipway, and launch your PWC by hand. Launching is possible here at all states of tide.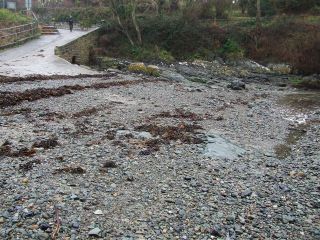 Parking is provided uphill from the slipway near the church.  There are (seasonal) toilets at the car-park location. Please note that no parking is allowed below the car-park between May 15th-September 15th.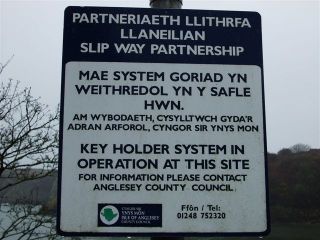 Getting There (from A55)
Cross the Britannia Bridge,then continue on the A55 for about 150 metres, and exit at Junction 8.
Continue on slip-road and turn right at the top onto the A5025 (signposted Amlwch). Continue for about a half mile until you arrive at the roundabout  next to which the Four Crosses Public House is located.  Go straight across the roundabout and head for Amlwch on the A5025, passing through Pentraeth and Benllech.
At various points from 2 miles outside Amlwch, you will find signposts for Llaneilian to your right. Once in Llaneilian, drive past the car park on your right and you will arrive at a turning circle at the top of the slipway.
Useful Information
GPS co-ordinates
53.24.686 | 004,17.655
Nearest Fuel:
Benllech filling station
Dulas Marine (City Dulas)
Useful Contacts
Coast Guard (Holyhead) : 01407 762051
VHF Channels : 14/16
Anglesey Maritime: 01248752435
In an Emergency Call 999