New Brighton
View more Launch sites in Other Locations
---
Before launching your craft it is vitally important for your own personal safety and the safety of others that you take the time to read carefully the Rules & Regulations as set out by Wirral Borough Council. Please adhere to these rules and regulations at all time.
The River Mersey offers a fantastic (and sometimes challenging) venue for using your PWC.
Launching from here, you can go up-river to explore the waters around the world heritage status Liverpool Waterfront, Albert Docks, Aigburth and Liverpool Airport.
Venture in the other direction and you can discover The Wirral Peninsula, Crosby and Formby Beaches or the wilds of The Irish Sea.
A tidal river, The Mersey shows a range of heights from 4 metre Neap tides to huge 10 metre Springs and, weather depending, you can experience a flat calm day of cruising, or a day of wave jumping that will rival any gym session you've ever done.
Launching here is easy. A well constructed concrete slipway (pic. 1) leads to a wide concrete driveway, enabling you to drive your vehicle right down to the Launching Area of the beach (pic. 2)
Launching is possible with both 2wd and 4wd vehicles but we advise you use the RIGHT HAND side of the launching zone (pic. 3) adjacent to the sandstone rock outcrop, as the sand is much firmer here.
We also advise that you invest in a long webbing strap or suitably rated rope to enable launch & recovery of your PWC trailer, allowing you to keep your vehicle out of the water.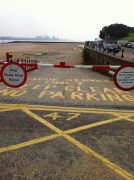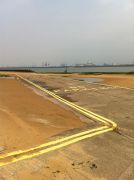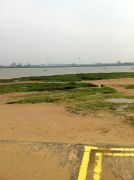 Although launching is possible directly from the slipway during the biggest Spring High tides, we STRONGLY RECOMMEND you AVOID this option.
The river is fast running, and prone to large waves from passing freight ships. The stone retaining wall on the right & left of the slipway could inflict substantial damage to your craft if it were to get caught in the swell.
During the summer season, access to the launch area is controlled by Beach Wardens, who will want to see your launch permit before allowing you to launch your craft. The Beach Wardens CANNOT issue you with a launch permit.
The RNLI here have a PWC (pic. 4) and may assist if you find yourself in difficulty or danger out on the water.
New Brighton also has an RNLI Station, with both ILB & Hovercraft. For information on the station, crew or rescue craft, click this link New Brighton RNLI.
The RNLI also have stations & rescue boats at West Kirby & Hoylake. West Kirby have an ILB, whilst Hoylake have a larger & long range capable "Shannon" Class boat.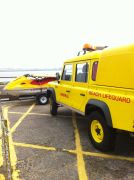 Launch permits (either day or seasonal) are available from Safewater Training, who are situated a short walk from the slipway (click their link to find them).
You must be able to show documented proof of having completed the RYA PWC Proficiency Course, and have current Insurance Policies covering both your PWC & towing vehicle before a permit will be issued to you. For a seasonal permit application, you will also be required to provide two passport sized photographs of yourself.
Current fees at this location are as follows:
Day Launch (any powered craft) £20
Non Club Member Seasonal Permit £125
Club Member Seasonal Permit £65
Club Registration Fee £25
Safewater Training have stated that the POSTAL ROUTE, IN ADVANCE is preferred, for both Seasonal & day launch permits. Due to their busy schedule of On & Offwater training, Safewater Staff are not always available at weekends to process applications & issue launch tickets.
You are required to have completed RYA PWC proficiency course, in order to launch here.
Parking here (free) is provided at the top of the slipway (pic 5), and has marked bays.
It can get busy here during the tourist season, so it is advisable to detach your trailer and park it next to the large observation point ( large red Buoy in the left of picture below) you will find in the car park. If this car-park is full, there are numerous bays situated along the road leading to the slipway.
We have noticed a few people leaving their car & trailer high on the beach (to the left of the slipway) during low or falling tide. If you do this, it is entirely at you own risk.
Getting there:
Travelling on the M53 (from either Liverpool or Wirral, Cheshire @ North Wales), take the exit at Junction 1 and join the A554.
Continue on the A554 until you reach the roundabout at the seafront, then take a RIGHT turn onto Kings Parade.
Continue along Kings Parade, passing the Morrisons Superstore and the other retail developments on your left.
Continue along the road, passing The Floral Pavillion Theatre on your right. Shortly afterwards you will see Fort Perch Rock on your Left.
Continue along the road, until you arrive at the parking area, and slipway on your Left (Look for the big red Buoy)
*Want to bring the family, but they're not interested in going out on your PWC?
New Brighton has been transformed by massive investment in the last couple of years, and now has something to keep everyone entertained.
Take a look on the New Brighton Beach Resort website, to see what's on offer. Trust us, you won't be disappointed!
Want a decent breakfast before a morning launch? Check out Wetherspoons, on the Right of Marine Parade before you reach the slipway.  Our usual haunt before the N&C Jetski Xmas Fun Day, they do a fantastic cooked breakfast!
Useful Information:
Navigational Hazards* There are a number of VERY LARGE concrete groynes within the launch and ski areas here. Each groyne is clearly identified by a tall CARDINAL MARKER.
We strongly advise that you remain seaward of these markers, as collision with a groyne could result in substantial damage to your craft, and possibly injury to persons aboard the craft.
There are also the remains of the historic sandstone swimming pool close to the sandstone rock outcrop. This presents a hazard at very low tide (can be clearly seen when tide is out).
Out in Liverpool bay, there are several large sandbanks. Not a problem at high tide (and they provide some great waves for jumping), but they present a grounding risk at low tides….Please keep this in mind if riding late into a dropping tide. If riding out in Liverpool Bay, you are strongly advised to follow the shipping channel (marked by Red/Green Buoys) back into the River. The large sandbanks in the bay can prove a grounding hazard on a dropping tide if you stray from the channel. 
Please be aware that The Mersey is a WORKING COMMERCIAL river, and as such has some very large craft upon it on a daily basis.
Ensure you learn & abide by the rules of navigation and avoid putting yourself in danger. Do not assume that you and your craft have been seen.
Please also avoid the temptation to "bow ride" any large vessels or the Mersey ferries. The Coastguard and Marine Police regularly patrol the water, and do not take kindly to irresponsible riding.
Forgotten your goggles,anchor or other piece of kit? N&C Jetski should have what you need, and they are only a few minutes walk from the slipway.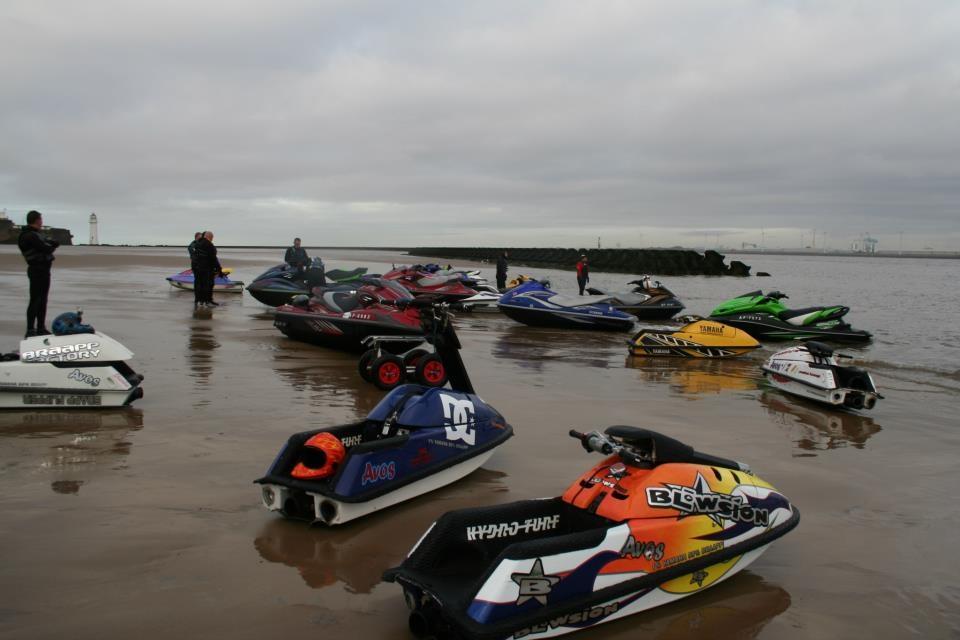 GPS co-ordinates:
53 26 21 N | 03 02 12 W
Nearest Fuel:
Tesco (Bidston Moss)
Bidston Link Road
CH43 7AA
Useful Contact Numbers
VHF Channels : 12/16
Port of Liverpool : 0151 9496135 (Select VTS)
Safewater Training : 0151 6300466
N&C Jetski : 0151 6910006
Beach Lifeguard Officer : 0151 6302188
Hoylake RNLI (for station tours) : Kim Jackson 0151 625 3110
Hoylake RNLI info@hoylakelifeboat.org.uk
Ports Website www.merseydocks.co.uk
In an Emergency Call 999