Sandy Beach
View more Launch sites in Restricted
---
Before launching your craft it is vitally important for your own personal safety and the safety of others that you take the time to read carefully the Rules & Regulations as set out by Gwynedd Council. Please adhere to these rules and regulations at all time.
Launching from Sandy Beach is reserved for patrons of Sandy Beach Caravan Park only.
Public access for lauching is not possible, as the slipway to the beach is beyond the coded gates to the site.
You may of course ski into this location from elsewhere, and as such we have provided details & safety information for this location.
Sandy Beach (actually called Porth Tywyn Mawr) is on the North West coast of Anglesey in the village of Llanfwrog. A wide, sandy beach( pic. 1) backed by sand dunes, this location is popular with holiday makers and locals alike. There is a large Caravan Park here, which has static vans and seasonal tourer spaces.
Launching from here gives you access to Holyhead Bay, and the varied coastline of North West Anglesey.
Noteable features to visit from here include The Skerries Lighthouse, South Stack and The Inland Sea at Four Mile Bridge.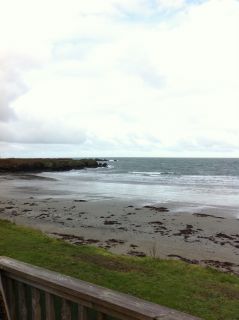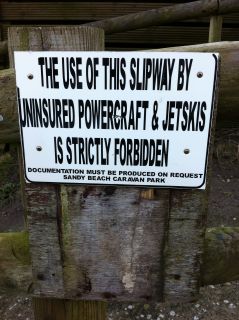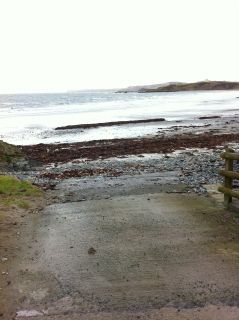 The slipway here (pic. 2&3) is of good, solid concrete construction and not too steep. In general the beach surface is fine for 2wd or 4wd vehicles, but if the weather has been stormy there can be a build up of deep, loose sand and seaweed at the end of the slipway leaving 2wd vehicles at risk of getting stuck.
You must assess the suitability of the surface before venturing onto it with 2wd.
Getting There (from A55)
Cross The Britannia Bridge, then continue along the A55 across the island until you reach Junction 3 (signed Valley/ Y Fali). Negotiate the roundabouts, following the signs for Valley. At Valley crossroads, take the right turn onto the A5025. Continue on through the villages of Llanynghenedl and Llanfachraeth.
Just after you leave Llanfachraeth you will find a Right turn (signposted Llanfwrog). Take this turn and follow the (narrow in places) road towards Llanfwrog. Just after passing the church on your left, you will see a red telephone box on your Right. Turn Left here, and follow the signs for Sandy Beach.
Useful Information
Navigational Hazard
There is a LARGE rock outcrop in the centre of the bay, which is easily visible at low tide. Be aware of it if you ski into the bay on a falling tide though. Some of the rock is only just submerged, and could inflict substantial hull damage if you stray too close.
Useful Contact Numbers
Sandy Beach Leisure Park : 01407 730302 | 07872 935299
Please do not call this number and ask if you can just turn up and ski for the day. Launching from this location is for Caravan site Patrons only.
Holyhead Coastguard : 01407 762051
VHF Channels : 14/16
Maritime Office : 01248752435
In an Emergency Call 999