Trearddur Bay
View more Launch sites in Anglesey
---
Before launching your craft it is vitally important for your own personal safety and the safety of others that you take the time to read carefully the Rules & Regulations as set out by Gwynedd Council. Please adhere to these rules and regulations at all time.
Trearddur Bay is located on the North East coast of Anglesey, and is actually on Holy Island a few miles outside Holyhead. It is a HUGELY popular holiday destination with families, and watersports enthusiasts alike.
Launching from here allows you easy access to the West and North coastlines of Holy Island and Anglesey. Noteable features you can explore from here include South Stack, The Skerries, and the numerous sandy beaches of the West coast.
Being a family holiday destination, Trearddur Bay has plenty of places to find good food & drink, numerous hotels & shops as well as a golf course and leisure centre further towards Holyhead. There is also a fantastic caravan & camping site (which also offers Luxury B&B) in Porth Dafarch (less than 2 miles from the beach). They are a JET SKI FRIENDLY SITE, and you will find their details on the "Links" page.
The slipway here (pic. 1) is  Council owned, and of good concrete construction.
During the season there is a Warden on site from 8.30 -5.30pm. You will be required to show proof of valid insurance & Council registration before being allowed to Launch. When the warden feels that the bay has enough watercraft on it there is now a barrier on the slipway, which can be locked.
Launching is possible here at all states of tide. It is possible to drive onto the beach off the slipway to launch your ski at the right hand side of beach only. 4X4 is not a necessity for safe launching here.
The slip is easy to use at periods two hours either side of high water. During the summer months and bank holidays the slip gets very congested especially around high water, when you may have to wait to drive onto the beach to launch. Users should prepare their craft for launch in the car park and NOT on the roadside near to the slip in order to minimise congestion.
Cars/trailers should not be left parked on the beach, however there is ample parking close by.
There is a large car park (fees apply) about 200m further along the road to Porth Y Post, on the right hand side. This has space for around 80 cars, has some trailer lock up posts.
Gecko Surf operate a Paddleboard hire/Tuition centre from this carpark, where you will also find a good range of wetsuits & clothing for sale. They also have toilets you are welcome to use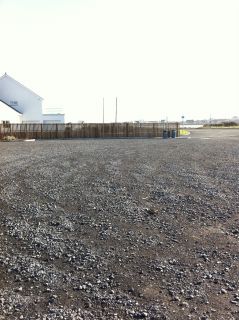 A new car park has also opened opposite the foothall field (next to "The Waterfront" restaurant) where fees apply.
Lastly, there is further parking (fees apply) off the main road, just opposite the Post Office, with ample parking space available
General information
GPS co-ordinates
53.16.817 | 004.37.270
Getting There. From A55
Cross The Britannia Bridge, then continue on the A55 across Anglesey. Exit at Junction 3 (signed Valley/ Y Fali), and negotiate the roundabouts leading to Valley Crossroads. At the crossroads (traffic lights), take the left turn, passing through Four Mile Bridge and continue on to Trearddur Bay. In Trearddur Bay, continue until you reach the shops on your right hand side and then turn left at the petrol station for the beach.
Useful Information
Nearest Fuel. Valley Shell Station (straight on at Valley Crossroads) or Filling Station on Crossroads. There are also Morrisons and Asda fuel stations in nearby Holyhead. .
Navigational Hazards
If launching here for the first time look out for rocks to the left and right. Once launched, head for the moorings and then turn left keeping the pipe marker to your right until you are well past, then turn right and out into the bay.
Useful Contact Numbers
Holyhead Coastguard : 01407 762051
VHF Channels : 14/16
Maritime Office : 01248752435
In an Emergency Call 999