Dinas Dinlle
View more Launch sites in Gwynedd
---
Before launching your craft it is vitally important for your own personal safety and the safety of others that you take the time to read carefully the Rules & Regulations as set out by Gwynedd Council. Please adhere to these rules and regulations at all time.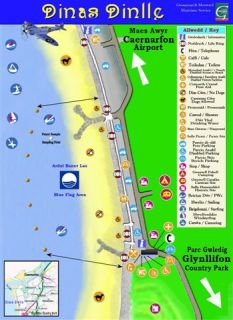 Unfortunately the slipway at Dinas Dinlle is no longer open and you are unable to launch your craft from this location.
Should you travel to the area by sea here is a copy of the location/exclusion zone map which still applies at the site.