Menai Bridge
View more Launch sites in Anglesey
---
Before launching your craft it is vitally important for your own personal safety and the safety of others that you take the time to read carefully the Rules & Regulations as set out by Gwynedd Council. Please adhere to these rules and regulations at all time.
Menai Bridge village, and launch location are literally minutes from either Menai Suspension Bridge, or Britannia Bridge on the A545.
Launching from here offers the wide, fast flowing Menai Straits (pic. 2), the coastlines of the mainland and Anglesey, passage under both historic bridges, as well as access to the Llyn Peninsula in one direction, and Llandudno's Great Orme in the other.
The slipway here (pic. 1) is of good, wide concrete construction, and available at all states of tide. There is a free gravelled trailer park (pic. 4) halfway down the slipway; but please be aware that it FLOODS frequently at high tide, so you may not want to leave your trailer there if skiing on a rising tide. 7 metres and above is when it is sure to flood, but wind against tide and big swells can mean flooding at lower heights.
*BE AWARE THIS HAS HAPPENED TO ANOTHER COUPLE OF VEHICLES DURING 2019. PLEASE READ YOUR TIDE TABLES*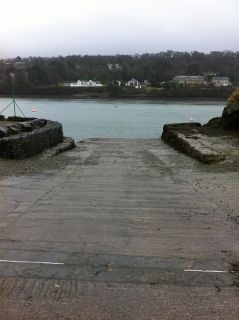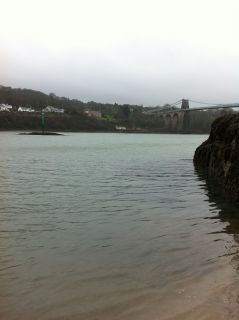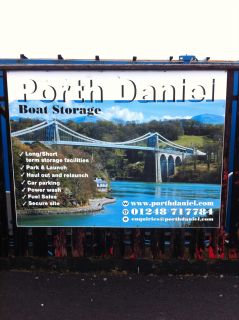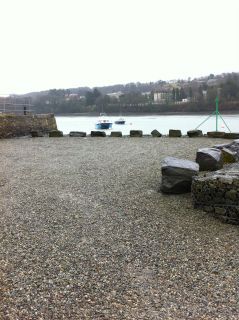 Directions
(from A55)
Continue along the A55, crossing the straights on The Britannia Bridge. Take the 1st exit (j8A) onto the A5/ A545 signed Menai Bridge & Beaumaris. Continue along the A545 until you reach the Menai Bridge roundabout. Continue straight over and into Menai Bridge village. By the Post Office you will see Water Street on your right. Take this turn, and it will lead you past Porth Daniel Watersports and on to the Porth y Wrach slipway.
Useful Information:
GPS co-ordinates
53.13.415
004.09.678
Nearest Fuel: Shell Filling Station, Menai Bridge
Local Hazards:
Currents in the Straits can be VERY strong! Please take care when launching and recovering your ski as it may be more difficult than you are used to.
Due to the strong currents and eddies that occur down tide of the bridge supports, we strongly advise that you DO NOT ski too close to the support structures of either bridge. You may incur substantial damage to your ski, or injure yourself. You also need to be aware of "The Swellies", which are an infamous part of the Straits. They are formed by massive submerged rock formations, between the two bridges. Unless riding on a rising/ high tide, these rocks can be a serious navigation & collision hazard. Please take a look at the area during low tide, or Google search images of "The Swellies" before launching here for the 1st time.
Useful Contacts:
Porth Daniel Watersports : 01248 717784
Coast Guard (Holyhead) : 01407 762051
VHF Channels : 14/16
Anglesey Maritime : 01248 752449/ 01248 712312
In an Emergency: Call 999