Rhosneigr
View more Launch sites in Anglesey
---
Before launching your craft it is vitally important for your own personal safety and the safety of others that you take the time to read carefully the
Rules & Regulations as set out by Gwynedd Council. Please adhere to these rules and regulations at all time.
Rhosneigr is located on the West coast of Anglesey, between the Villages of Valley and Aberffraw. This beach is WORLD FAMOUS for its surf, and is visited by freestylers, surfers, kite-surfers and boarders from all over the world.
Launching from here is available at all states of tide, and offers access to the Western coastline of Anglesey, Holy Island and Caernarfon Bay. Noteable features to visit from here include South Stack, or you could just stay and play in the surf!
The slipway here (pic. 1) is of flat, concrete construction and leads to a sand surface. While being mostly firm, there can be areas of soft sand, so care must be taken when towing onto the beach with 2wd vehicles.  The slipway is very short here, so this is essentially a beach launch location. Vehicles are not permitted on the beach (pic. 2) EXCEPT for the launching and recovery of craft.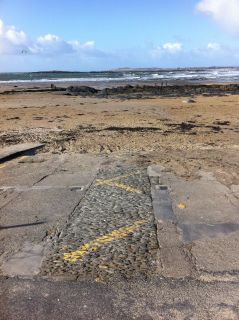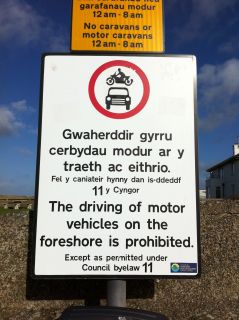 If you wish to leave your car on the beach, you must use the "Beach Road" access point (at the other end of the beach, to the LEFT of the Beach Terrace access point). This is an unadopted road, and as such care must be taken with low slung vehicles or trailers. For 2016 onwards, the BEACH ROAD access point is the Council preferred access point, rather than the one at Beach Terrace.
Street parking is pretty impossible at the Beach Terrace slipway and very limited on the village streets, but there is limited seasonal vehicle/ trailer parking offered by Funsport/ Bucky's Surf Shop, which we are most welcome to use. Just drop into the shop and ask when you arrive.
Alternatively (and preferably) please park & launch from the Beach Road access point.
Getting Here (From A55):
Cross the Britannia Bridge, then continue on the A55 until you exit at Junction 5. Bear left onto the A4080 (signposted Rhosneigr & Aberffraw), passing through Engedi, past Pencarnisiog and into Llanfaelog. On the far side of Llanfaelog Turn Right onto the A4080 (brown sign for Rhosneigr). In Rhosneigr you will see shops (Mace etc) to your right. Continue straight on and you will find the beach infront of you. Funsport/ Bucky's Surf Shop is on the left if you need to sort out parking.
Useful information:
GPS co-ordinates
53.13.754 | 004.31.378
Funsport/ Bucky's Surf Shop: Located at the top of the slipway, Funsport offer PWC/ Jetski batteries, Oneill Wetsuits, Balaclavas, Gloves, Fashion wear as well as tuition/ kit hire for Wakeboarding, Kitesurfing, Windsurfing and more. They also have a webcam, so you can check out the conditions efore you set off for the beach. (see links page for their website)
Useful Numbers:
Holyhead Coastguard : 01407 762051
VHF Channels : 14/16
Maritime Office : 01248 752449/ 01248 712312 
Funsport/ Bucky's : 01407 810899 (LL64 5QB)
In an Emergency Call 999